It's a large, old farmhouse in central New York State, about 15 miles south-east of Syracuse on an acre of beautiful grass and trees.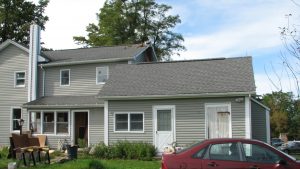 These are some of the qualities that attracted us to it:
Comparatively good outdoor air quality and nice neighborhood
No recent renovations on the interior
Hardwood floors throughout half of the house
Large enough, and laid out well, for 3 separate housing units
Good roof and siding, large windows, structurally sound
Garden space and passive solar opportunity
The price was right!
It needs a lot of work:
This is both a good and challenging thing — good because we get to choose materials and designs for better air quality and lower electrical fields, and challenging because we need to find ways to do the work on a very tight budget. Donated appliances and materials are coming in slowly. We had hoped to have new wiring, plumbing and heating system, and at least two out of the three living units completed by late summer or early fall 2017, but due to a lawyer dropping the ball on our title transfer, we lost the summer building season and are now projecting completion in summer 2018. The title did get transferred in September and we are now receiving free legal services through a new grant that Legal Aid has received for starting cooperatives!
If you have an afternoon to volunteer . . .
Here are some chores that need done. A volunteer work session can be arranged to fit your schedule.
We need a to borrow a pick-up truck from time to time to haul donated items and lumber to the site.
Pruning two ornamental fruit trees in door yard – serious pruning a very good job for March.  Completed!
Demolition of old kitchen  Completed!
Cleaning the basement stone walls. Completed!
Brick chimney demolition – no skill needed but physically tiring  In progress!
Digging 6 – 12″ holes for support posts in basement
Taping protective cardboard to protect wood floors for construction phase
Scraping and painting rafter timbers in basement for bug control  Completed!
Removing vents and vent covers from old forced air heating system.
First phase projects:                                          
Removing old partitions
Cleaning floors, walls, windows
Removing old wiring and ducts
Getting basic pluming and electric working
Vapor barrier and poured concrete floor in basement
Upgrading the septic system for three units
If you would like to volunteer time or donate materials, or have ideas for us to pursue along these lines, please contact our volunteer coordinator Karen. If you are too far away to volunteer or donate materials, please consider making a cash donation toward a specific piece of the project.
Items needed for first phase:
An 8×8 wooden shed to house electric meters
Cleaning supplies, rags, painters tape, trash bags
Fans, dehumidifier
Dimensional framing lumber – any size
6' fiberglass ladder
Any amount hardwood flooring
Hardwood or poplar for trim counter etc.
Plywood any size and thickness
Corian or granite for bathroom counters, tub area
Good quality real wood or metal cabinets
2 or 3 electric stove tops, 1 electric stove with oven
3 two basin stainless steel or porcelain kitchen sinks – large
Ceramic tiles
32" wide interior doors
3 small washing machines, one big one
Low or no Voc paint – any color
Ceiling lights, switches, plate covers
Tub and shower surrounds, claw foot tub
3 Refrigerators
Hand rail, grab bars
Corrugated drain pipe
BX twisted cable, metal connection boxes
Dead bolt locks that use key inside and out
Sauna — no harm in asking!
Land line phone
Metal storage shelves
                                                                  Second phase projects:
New wiring, plumbing and heating system
New insulation
Three new bathrooms and kitchens
Add new interior walls and appliances 
Partition to make 3 separate units
A list of interested prospective residents is being opened.
          – this will be housing for moderately and mildly sensitive people
          – there will be two 2 bedroom apartments, and one as yet undetermined apartment which will be a rental
          – this housing project is designed to be affordable for low-income people, and accept HUD Section 8 rental assistance
Who will be a good fit for a co-op?
Think about what attitudes, understandings, and resources you bring to build a successful cooperative.
          At a minimum, co-op residents need to have the social skills to:
          1. Participate in the monthly financial and problem solving meetings cooperatively and constructively.  Pick up responsibility for tasks and follow through. 
          2. Maintain an ongoing informal level of communication and negotiation with other co-op site members and the co-op board. A co-op is a small business.
The cooperative works by consensus – which is a skill set that a resident must have or acquire.  We can provide some training in "deal making" and we have a contract with an excellent community based mediator. The group is authorized in the by-laws to require residents to seek counseling or be evicted.   
Healthy attitudes mean a lot in group process.  It is fine to use "alone time" to help manage symptoms or sickness, and you don't have to be best friends with site members. However, co-op residents do need to be able to help make the group process move forward successfully.  Building and maintaining trust is essential; learning and flexibility are important qualities.
Residents need to have a basic daily ability for living independently.  If you need help with finances, transportation, shopping, home care, or counseling,  that needs to be independently established ahead of time.
We want prospective residents to visit the site to see whether it's suitable for them. Short term rentals will be possible. There will be at least a year's rental in order to participate in a "clearing process" to be sure you and the co-op are a good fit. After that ownership shares on two of the apartments will be available.         
 Things that will not work well at this site are: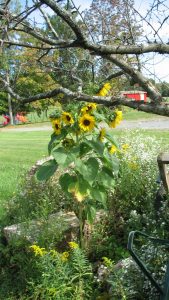 -the exquisitely sensitive
          -hair trigger sensitivities
          -lashing out in anger
          -litigious solutions
          -educating the neighborhood
 In our first housing site, our goal is to put MCS people in a situation of managing and eventually owning their own housing. We believe that this will be a huge improvement over the existing rentals that are available. It will be progress, not perfection. We care deeply about the plight of the extremely sensitive, and hope, as funding becomes available, to have housing sites that are appropriate for them as well.
Anyone interested in becoming a resident of this housing site is welcome to participate in the Cooperative board meetings as a way to get to know us and form a good working relationship. Please call or email for meeting times and the phone conference number for board meetings.
"I think it's always important to raise hopes and to lower expectations." — Canary Cooperative board member